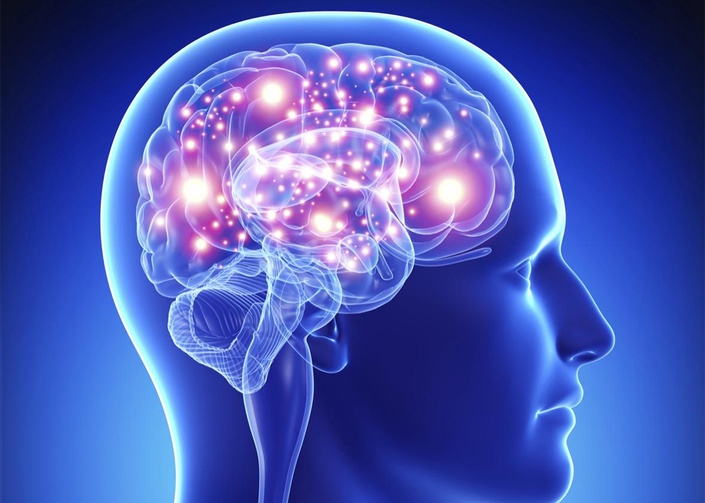 The Brain Based Practice Experience
A Community Of Brain And Nervous System Focused Chiropractors Achieving Practice Excellence
Enroll in Course
If you are ready to leave the pain based, insurance dependent practice model behind then this community is for you. This group, like nowhere in the profession, will bring you and your team the expertise, knowledge, experience, content and training you need to build a wildly successful practice based on the science of chiropractic, the brain/nervous system and the chiropractic adjustment. It is time we take our rightful place as the leaders of health and wellness and this group will help you do that in your community!

1. Continuous brain based community support, accountability and resources all included!
2. Regular collaborations with experts to help you build and grow your ideal practice.
3. Everything you need in regards to weekly live training, core membership content, regularly added content, instrumentation training, practice specifics, team training and more to move your following and practice away from the pain paradigm and to the brain and life time wellness based paradigm.
"For 17 years I could not figure out how to move my practice away from neck and low back pain. Nothing I tried worked. I was finally so burnt out that I decided to quit. 3 years later I found myself selling Kirby vacuum cleaners to make ends meet. It was then I decided to get back into practice. With $1000 to my name, starting in a 700 sq ft office space, 100% cash, I committed to a brain based practice and went from 0 to 500 patient visits a week in 6 months. Now 6 years later, I have a PVA of over 150, I have had the pleasure of seeing patients heal from Crohn's disease, depression, IBS, Stage 3 Kidney Disease, Anxiety, Psoriasis and more, and I am no longer accepting new patients because patients who started with me 5-6 years ago still come in weekly today."

Dr. Clint Steele

I, along with many other docs who have done the same, will share with you all the detailed step by step instruction, support, accountability, content and more to help you reach your dream practice and make more of an impact in your community!
Our vision is to bring together 1000 like minded, brain based chiropractors, and motivate, educate, inspire and equip them, to not only help each one build the practice of their dreams but to move the world's paradigm of chiropractic away from pain and instead to the brain!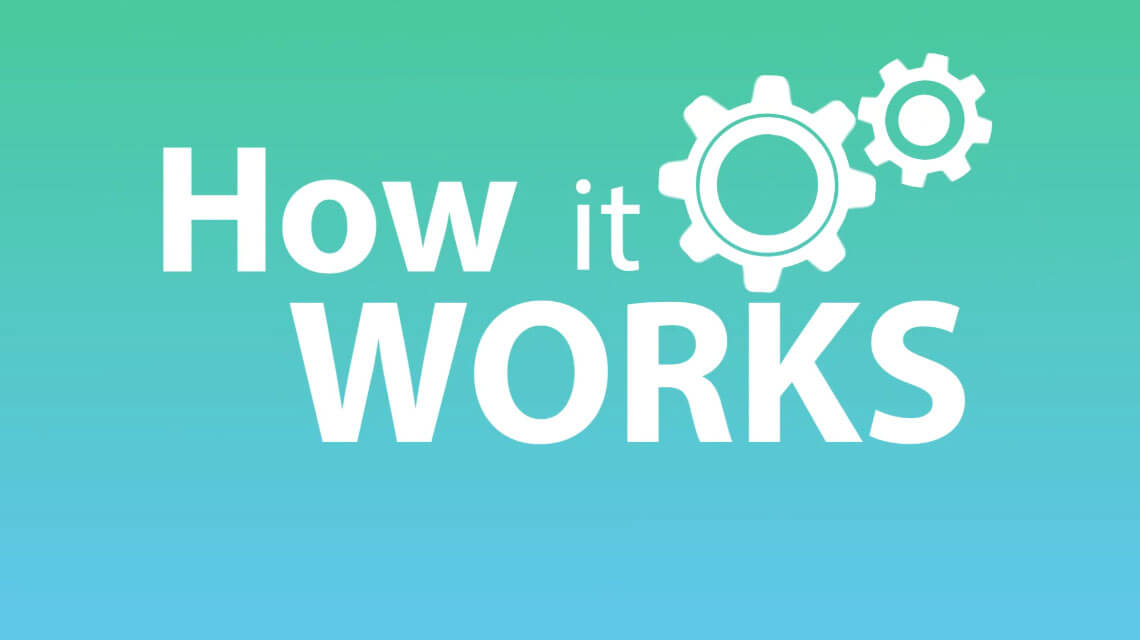 1) Sign Up Today And Get 7 Days FREE To Try It Out!

2) Once Signed Up Open The TRUCHIRO Email Sent To You

3) Ask To Join Our Private Members Only FB Group (see link in email)

4) Get Immediate Access To The Core Content which includes training in various subjects, resources
including paper work, testing material, marketing information and content, expert advice and more.

5) Watch your email/text for zoom links to weekly live training with our experts, doctors, patients and more.

6) Watch for email/text for replays of these trainings if you cannot make it live.

7) Ask questions in the group.

8) Access training to brain based practice instrumentation, testing and more

9) Get access to research regarding brain based chiropractic and stress and it's effect on the brain and health.

10) Get access to training regarding technique tips and best practices.

11) Deeply discounted rates for our live conferences.

11) SO MUCH MORE!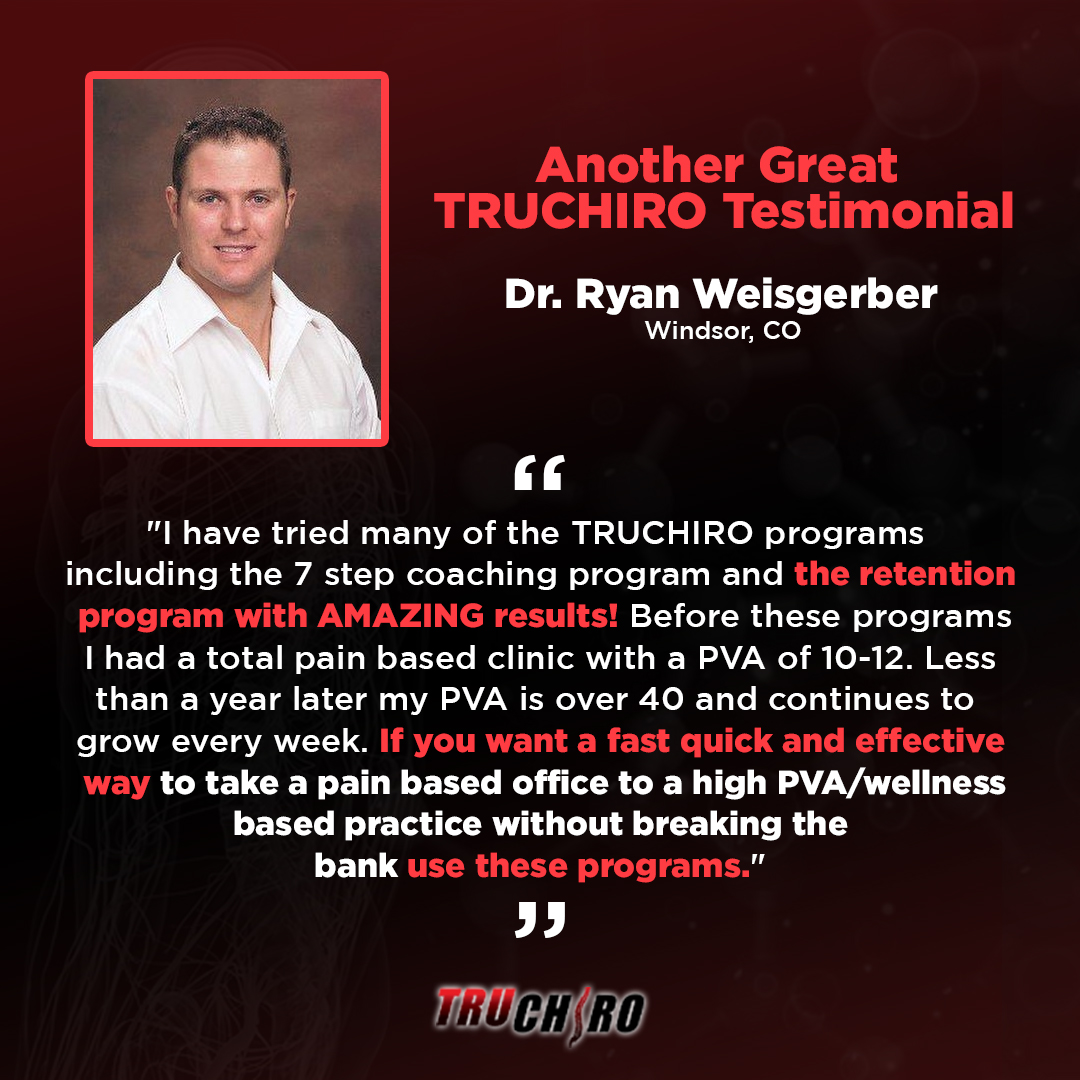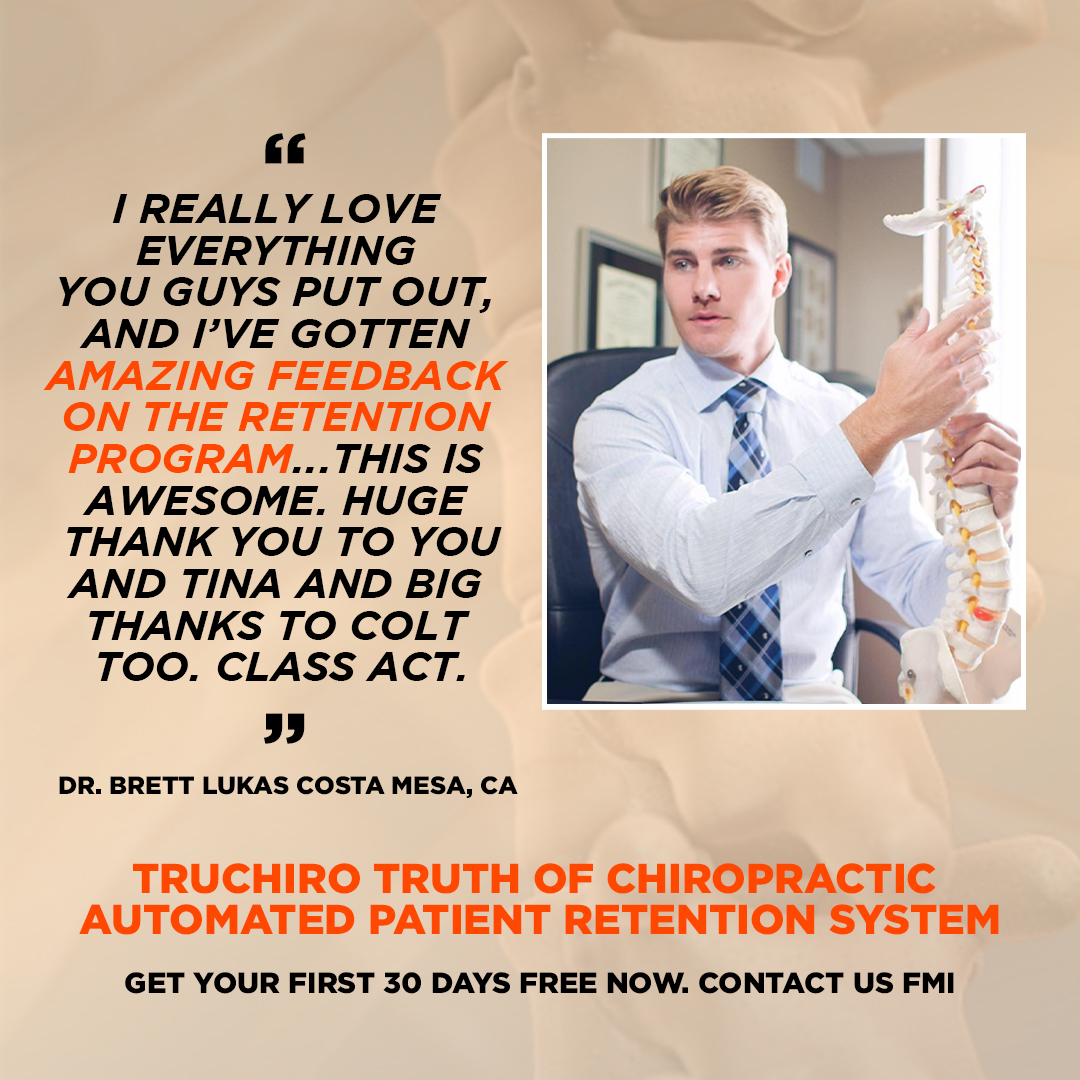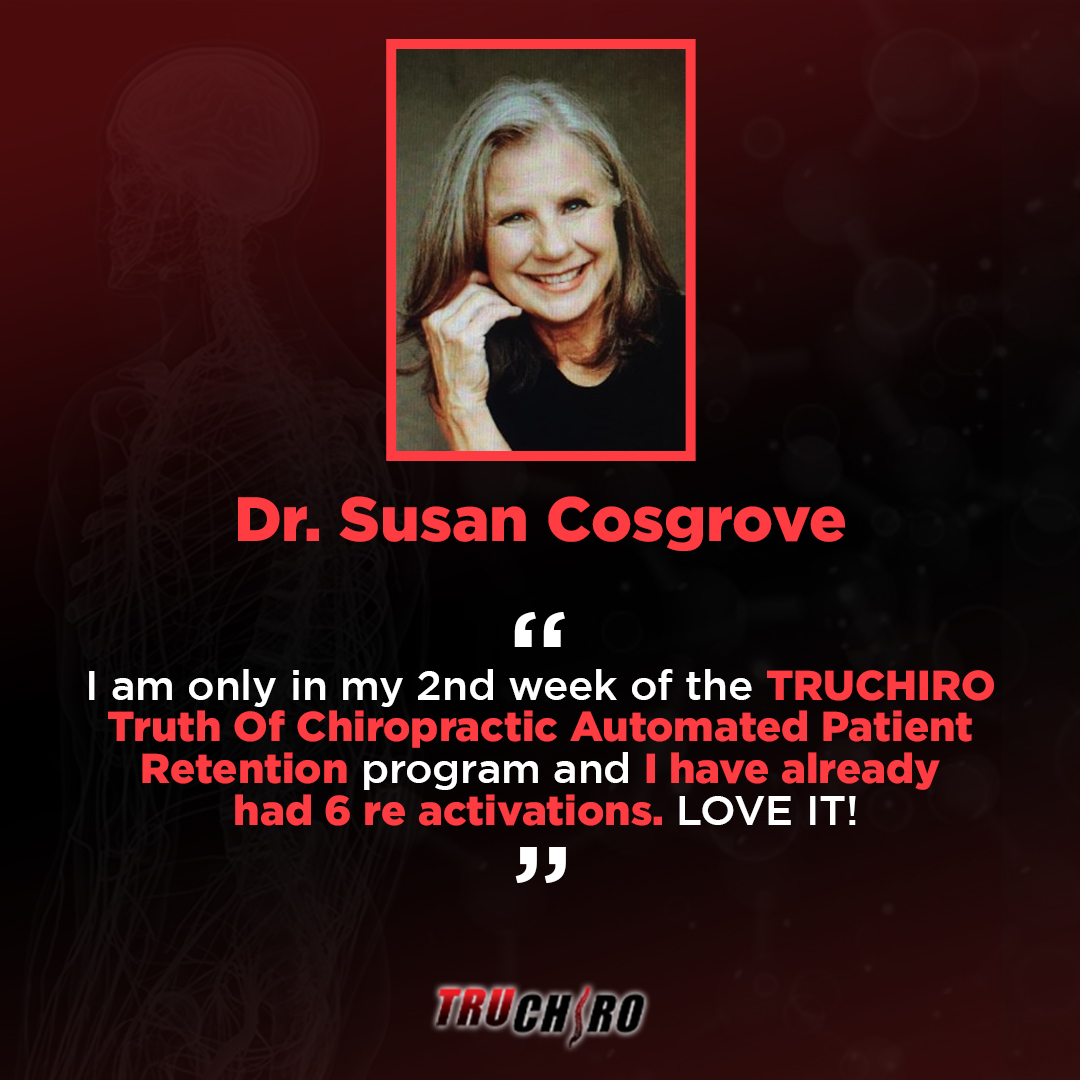 Course Curriculum
Welcome
Available in days
days after you enroll
Differentiating Yourself: Attracting Patients Who Want Something Other Than Pain Relief
Available in days
days after you enroll
Frequently Asked Questions
When does the course start and finish?
The course starts now and never ends! As long as their are doctors in our community we will continue to help you build a lifetime brain based practice, reach more people and save more lives!
How long do I have access to the course?
As long as you continue as a members you will have full access to all content, all training, and anything else we offer as part of the program.
How long do I have to continue?
We have no contracts. You can stop anytime you like. This benefits both of us. It motivates us to continue to provide high quality, valuable, consistent content. This also gives you what you want or else you can stop.
Do you have special pricing for students, associates and new practicing docs?
Yes! We want students, associates and new docs to benefit from the experience as well. See pricing page for special pricing.
Is this a module type go at your own pace program or more of a live training/ weekly meet up program?
It is a combination of all of the above. We provide our core content that you can study at your own pace. In addition you will have access to our weekly live trainings. We also have our private FB page where you can communicate with other docs as well as the leaders.experts in the group. All live trainings are also added to core content and emails out so you can watch on your own time as well.
Is this a personal coaching program?
No it is not. This group offers guidance, accountability, crowd resources and more from experts in various fields as well as from docs who have build hugely successful brain based practices. We collaborate with some great coaches should you ever want to hire a personal coach along with our membership program go for it. Both are highly beneficial. Many docs find that they get what they need just from the BBPE membership program.
Is this a technique group?
No we do not teach any specific techniques. We do however have collaborate with technique experts who will help you become more of a brain focused chiropractor. We have found that some techniques fit better when focused on the brain and nervous system but ultimately that is your choice and this group works well with docs from any kind of technique.
Do I need advanced training in the neurology?
NO! The chiropractic adjustment is about the brain, period! This group will help to educate you more about the brain and the nervous system but you do not need an advanced degree in neurology by any means. Just some basic concepts, ways to show objective results about the brain and ways to change the conversation with your following. We will provide all that and more!
Do I need any specific instrumentation?
Again no. There are specific instruments, testing, apps, and objective tests we will highly recommend. With that said we will share with you very simple no cost ways to show brain function during an examination. From there you can build into low cost apps and then high tech instrumentation
Are marketing materials included in the program?
Yes! We provide not only pre designed ads for you to use but also provide you with social media posts, email content, texting content, youtube videos, waiting room content but also virtual workshop material, powerpoints for live events and more. We also provide regular marketing training from experts in the field.
When Are The Weekly Trainings And Are They Recorded?
The weekly zoom trainings will vary from week to week in order to make sure docs with various office schedules can make the calls. They will range from morning to lunch time trainings. All trainings are recorded and will be send out via email and also text as soon as they are ready.
Is This Just For Doctors?
No! This program is also for your team. We will have much training for your team as well.