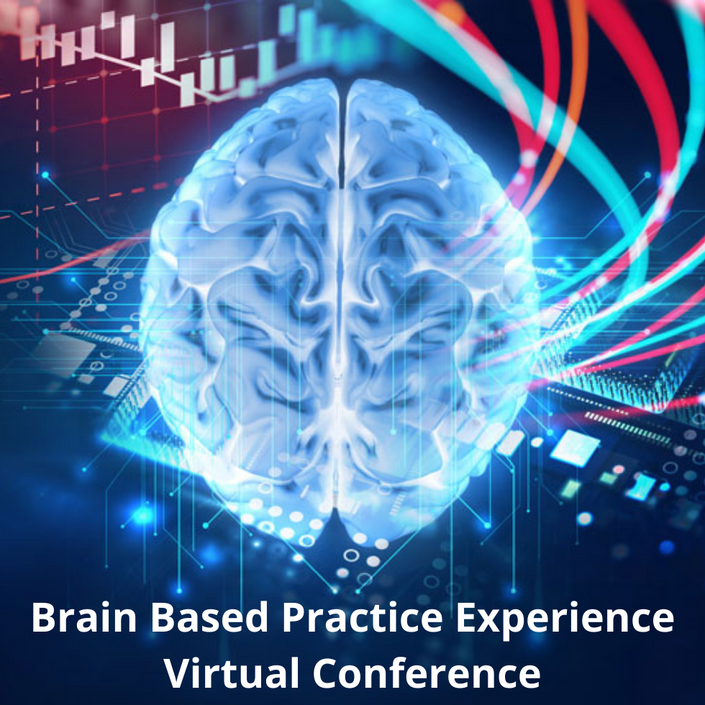 The Brain Based Practice Experience Virtual Conference
A 2 1/2 Day Virtual Conference That Will Explode Your Practice!
Enroll in Course
Our Brain Based Practice Experience Virtual Conference Recording is now available!
We hosted this amazing conference Oct. 1st-3rd and it was such a HUGE success that we decided to make it available to other Docs who want to change the focus from PAIN to the BRAIN and Explode their practice!
You And Your Team Will Leave The Virtual Conference With Knowing:
How To Change The Conversation From Pain To The Brain With Your Community
How To Attract Patients That Want More Than Just Pain Relief
The Science Behind Stress, Disease And Chiropractic And How To Use It To Increase Your PVA
How To 2x, 3x and Even 5 X Your PVA And Case Averages Using This Instrument
How To Conduct A Brain Based Assessment That Will Increase Your Acceptance Rate
How To Get On Average 2 Referrals For Every New Patient That Accepts Care
How To Increase Cash Paying Patients Including Pay In Full Patients
How To Develop A Retention System That Will 10X Your PVA
The Science Regarding The Cause Of The Subluxation And Why It Matters
PLUS SO MUCH MORE!!!
We had 14 phenomenal speakers share their expertise, knowledge and passion!
ALL OF THE SESSIONS BELOW WERE RECORDED!
Guest Speakers and Conference Schedule: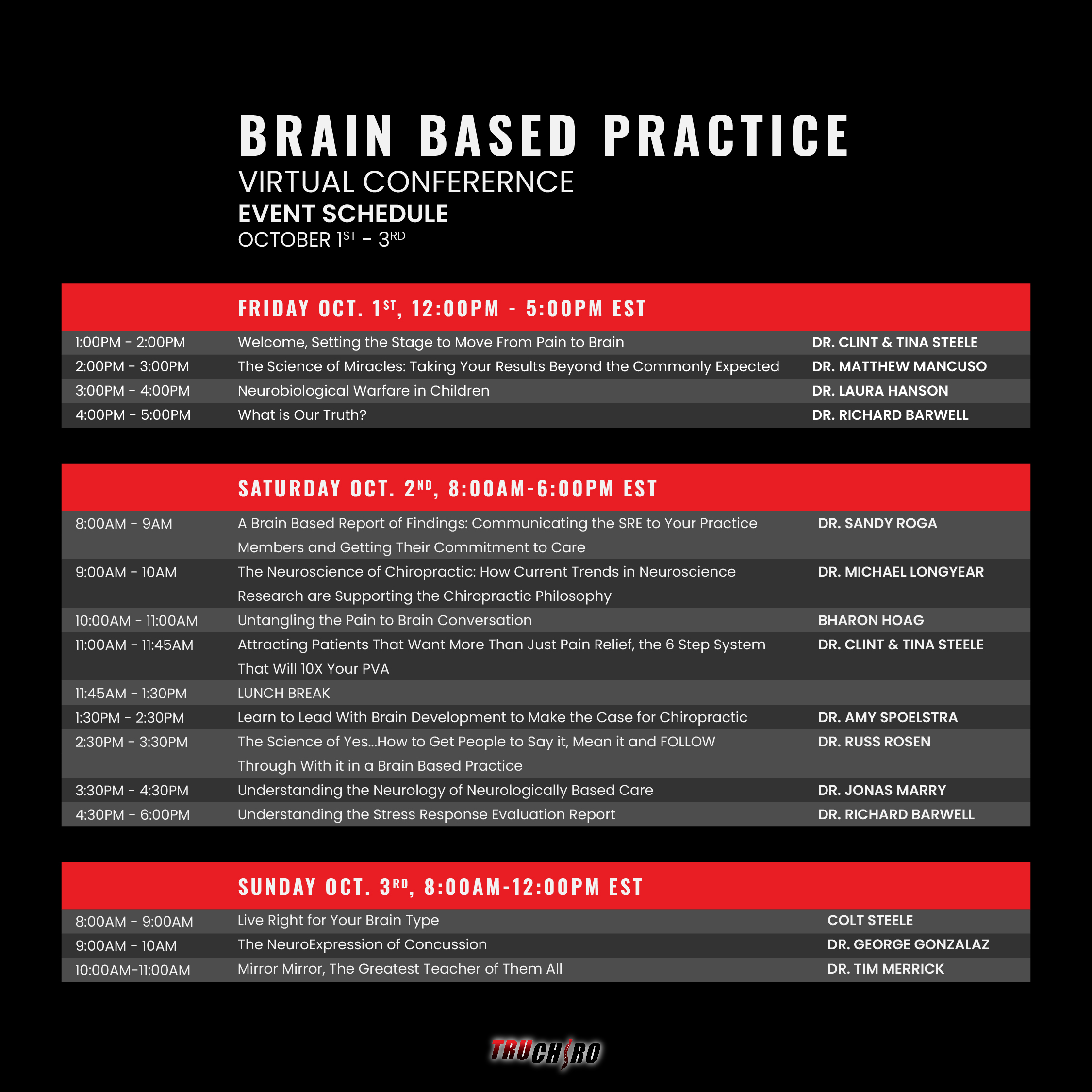 Conference Cost:
$340/Chiropractors
$145/Chiropractic Students
$99/Each additional staff member
---
Testimonials from Docs who have attended our Trainings and Conferences
"After attending a seminar that Dr Barwell presented about 2 years ago, chiropractic and what we do just made sense to me. It's like a light bulb went off and my passion and love for chiropractic was reignited. My own health issues were suddenly realized and as a result I started going to a neurologically based chiropractor and my health has improved drastically! A year later I decided to get the NeuroInfiniti myself and it has been the best purchase ever. I don't know how I would practice without it now. I now perform SRE's on every new patient and it has helped patients realize and see the effects of stress on their body and enables an awaking and a process of healing. It helps to unite the philosophy with a science that can show what we do works. Where patients originally just come in for some type of relief, they end up realizing that there is far more going on and all the other symptoms that they didn't know the cause of are understood and can now be dealt with." - Nicole Puchner, D.C.

"I mentioned before that the nervous system talk is what I have been looking for in my 15 years of practice. I am also listening daily to the old CEO call talks and making notes that continues to re-enforce that congruency. The first one (28) has really helped me stay focused on my treatment recommendations for new patients (not where it needs to be completely but better than it was a month ago) and my talk in the room now with my maintenance patients regarding repetitive movements begetting expertise in the nervous system and considering modifications of their maintenance schedule.
I know it sounds like a broken record, but I have been looking for this since I started in practice. I was ready to quit chiropractic because the models that exist in the profession don't make sense!! I know I am not the first one to make this connection with NBC. I told my wife I am more excited to come to work now when compared to when I first started in practice!! I look at my family (kids mostly) and wished I would have had this approach during their development. They have had a lot of chiropractic treatment but their SRE's are not perfect!!" Dr. Ralph Cardin - Overland Park, KS
I have just had my best week ever . . . and that's from a clinic that has been established for 15 years!! I am in the school of thought that it's not exclusively about the numbers in terms of measuring success but that ultimately it's about the successes within each visit. Our numbers were up last week and this week they will be even higher BUT the conversations that I am having is where I really feel my success is booming!! Practice members are getting the conversation and they are excited about the new language and the new focus that I have with regards to our journey into health and wellness. I have built a practice through the years with the "misfits" that nobody (medically as well as chiropractically) has been able to help so I am really excited about the successes that we are having with these folks and the hope that we are able to offer them when beginning care. Since changing the practice over to NBC and the NeuroInfiniti; I never have a bad day at work!! – Ralph Cardin, D.C.

"After listening to Dr. Barwell and implementing and using the NeuroInfiniti for several months, I have to say that my experience has exceeded my expectations. As a casualty of symptom based practice burnout, I was looking for something to help me quantify the need for Chiropractic care and communicate the true effect of the adjustment beyond the pain message. Using the NeuroInfiniti has helped me change the way my patients think about health and that has helped me to better fulfill my role as their doctor.
Patients expect to feel symptomatically better from Chiropractic care but they are thrilled to be experiencing major improvements in the health challenges that they don't typically relate to Chiropractic and that is resulting in better compliance to my recommendations. Practice has never been better!" - Dr. Brian, Virginia
Your Instructor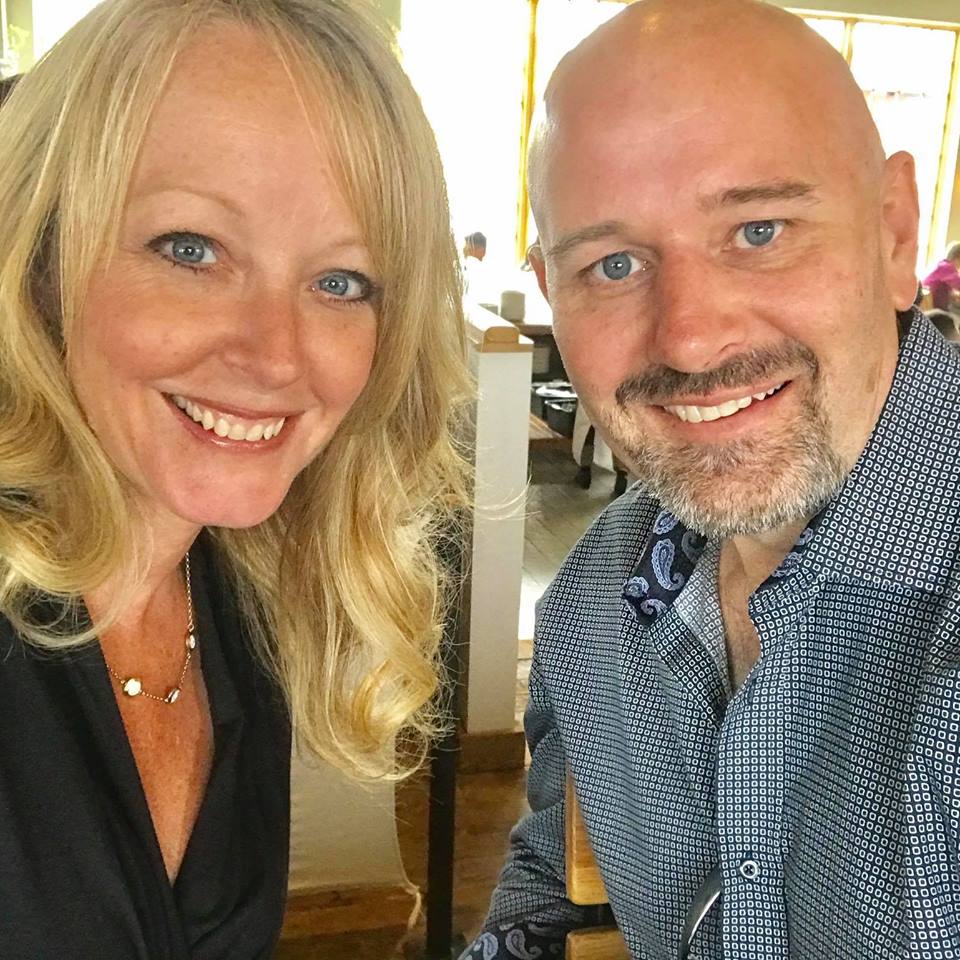 17 years of practice, 7000 patient files and the day before he decided to quit he still needed more new patients to pay the bills. Stressed out by constantly looking for new patients Dr. Steele decided to give up on chiropractic never to return again. Then 3 years go by and while selling Kirby vacuum cleaners to pay the bills Dr. Steele decided to go back into chiropractic. So...completely broke he started a new practice in a new town but this time it was going to be his way...by sharing the TRUTH of chiropractic with his community. He opened up in a 700 sq foot office space, no employees, 100% cash and went from 0 to 500 patient visits a week in 6 months.
Things got so busy that Tina left her career in higher education to help run the practice, as she has experienced firsthand the benefits of TRUCHIROPRACTIC and is passionate about helping people achieve optimal health. She has her Master's Degree in Higher Education and took over the marketing of the practice, and worked on building a strong social media presence while educating current practice members and their following on the TRUTH of chiropractic. She has several years of experience and research under her belt on the benefits of chiropractic care in addition to her own health significantly improving as a result of care. She loves working with other chiropractors and helping them use Facebook as a marketing tool and education platform to not only grow their practice but transform it into a lifetime wellness based practice. She develops all the content for this program that is helping chiropractors increase their retention, referrals and re-activations and establish themselves as the go to chiropractor in their community.
The practice now has a PVA of well over 200 and together, they are sharing with other chiropractors how to develop a lifetime wellness brain and nervous system based practice for themselves through various training programs as well as their totally unique and innovative programs and instrumentation.

TRUCHIRO now offers brain based certifications program, conferences, a magazine, instrumentation that actually measures the function the brain and nervous system in live time curing stress and recovery, plus HRV instruments, BrainScore, NeuroInfiniti, The Chiropractic Lifestyle program, Automated email, text and social media posting program plus more!



They also have put together an amazing website which not only educates the public on the truth of chiropractic but then also allows the public to find a chiropractor in their area who practices the TRUTH of chiropractic (we call a TRUCHIRO). A chiropractor who focuses on the brain and nervous system and allowing the brain to communicate properly with the body instead of a chiropractic who just focuses on neck and low back pain.

Please feel free to learn more at www.truchiro.org


Frequently Asked Questions
How long will I have access to these presentations?
For life!
Can I watch these presentations more than once?
Yes you can watch them as often and as many times as you want.